This weekend (26 Mar 2017) marks the end of the 2017 edition of the  i Light Marina Bay festival. I made a few more visits to the festival after the media preview so that I can see and photograph the installations which were either not ready then, or we didn't have time to cover.
Here are some of the ones which I find to be more interesting.
HYBYCOZO by Yelena Filipchuk & Serge Beaulieu (USA/Canada)
Consisting of intricately carved geometric shapes, HYBYCOZO features various themes from ancient Islamic tiles to patterns created by particle physicists when modeling the unified field theory. The artwork aims to translate the appearance of beauty within naturally occurring harmonic relationships and patterns in the natural world into sculptural form.
Dande-lier by COLOURS
This is an installation made from many white umbrellas, individually as a chandelier, and collectively as a dandelion – hence, "Dande-lier". Coloured lights react to the presence and movement of visitors in the installation, slowly changing the colours of the lights projected onto the umbrellas.
Ocean Pavilion by Luke Jerram (UK)
Inspired by the natural forms of the microscopic diatoms and radiolarians found in the rivers and seas around Singapore, the Ocean Pavilion is both a space for contemplation and wonder. Made from 25,000 up-cycled Evian bottles with the help of students from 11 schools around Singapore, the artwork promotes reuse and upcycling efforts.
Northern Lights by Aleksandra Stratimirovic (Sweden)
In ths installation, Swedish artist Aleksandra Stratimirovic attempts to bring the Northern Lights to Marina Bay by stringing a chain of 100 vertical LED tubes across a small section of the Waterfront Boulevard. Still nothing like experiencing the real thing though. Also, the official photo of the installation appears to be a composite, and is impossible to create in-camera without double-exposure or other compositing techniques.
The Body of the Sea by Danny Rose (France)
I wasn't able to get close enough to the Merlion during the media preview since we were on a boat, so I revisited the installation again to get a closer shot.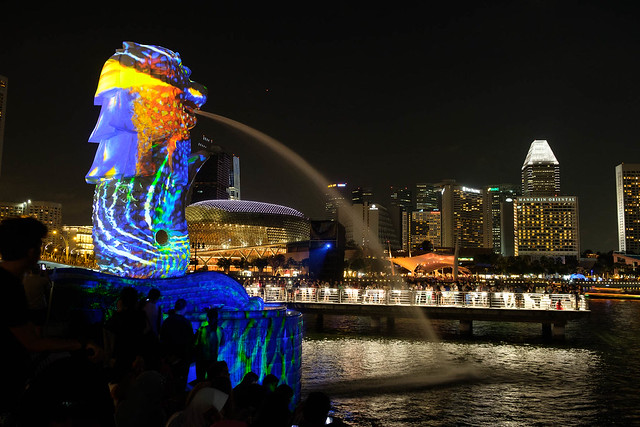 Once again, the last day of the i Light Marina Bay 2017 is on 26th March 2017. Do visit before it's over! Meanwhile, for more photos, you can check out my Flickr album.