Being a big city, San Francisco is the last place one would think of to shoot star trails. The light pollution usually makes it a very difficult feat. However, when I arrived at the rental apartment at the SoMa district where I was staying in and looked up from the balcony, I saw a clear sky with several stars. The Orion constellation was also clearly visible. So, I decided to give it a try.
I set up my Fujifilm X-T1 fitted with a Zeiss Touit 12mm f/2.8 lens on a tripod at the balcony, and took a few test shots. Lacking any other foreground interest, I decided to use the two apartments in front as the foreground.
To maximise the chances of capturing the stars, I used the ETTR (Expose To The Right) method, using as much exposure as possible without grossly overexposing. After post-processing a few of these shots, I decided that the exposure chosen was good to go. In this case, it was 8s at f/2.8 at ISO 1600. This resulted in the following shot.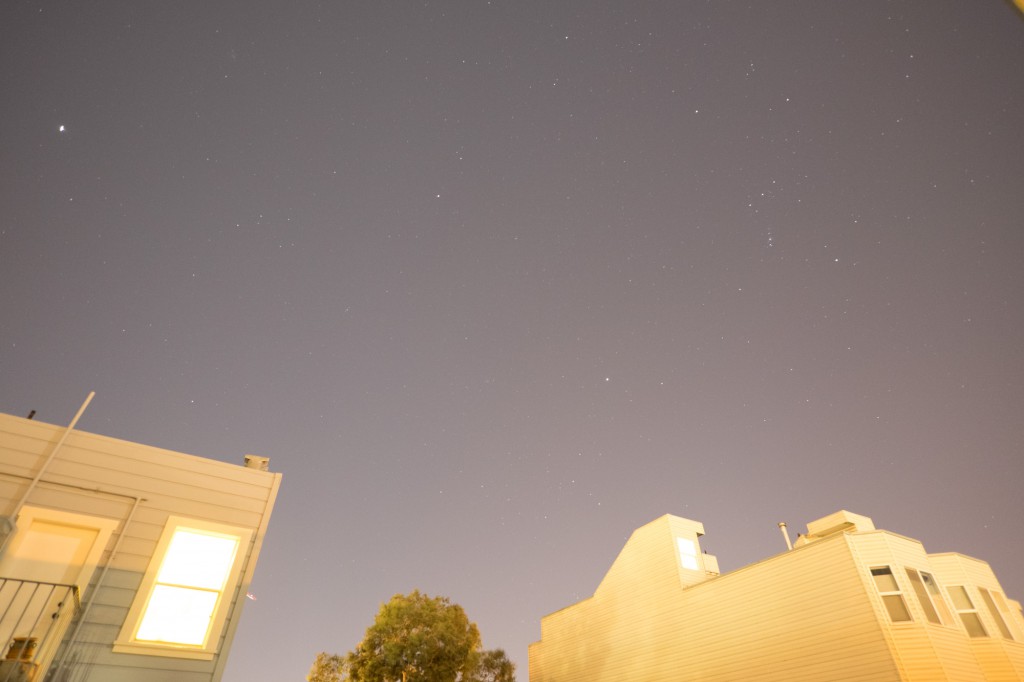 After setting the appropriate film emulation (I chose Camera Standard/Provia), white balance, exposure, highlights and contrast, I managed to get this. The light pollution is still clearly visible, unfortunately.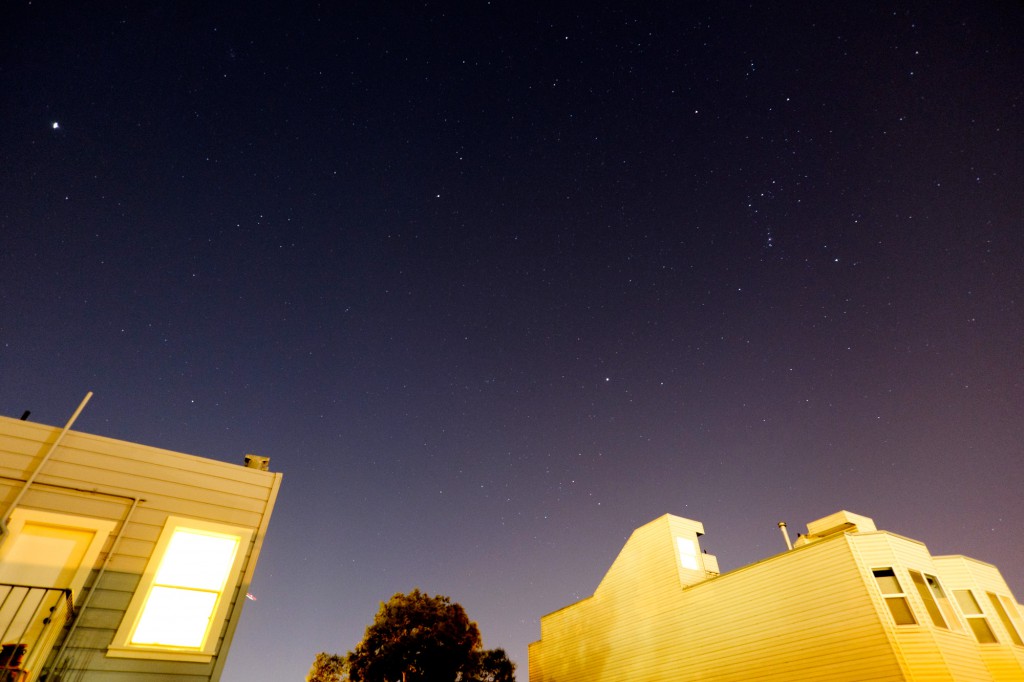 I set the camera's intervalometer to shoot a hundred shots and left it to do its thing. After it's done, I imported all of the shots into Lightroom, corrected the first shot and then synced the settings across the rest of them.
The next step is to stack all the shots together. I chose the free StarStax software which let me quickly stack all the 100 shots. Annoyingly, the Fujifilm X-T1's intervalometer pauses for 8s (the exposure time) in-between the shots, creating some small gaps in the star trails. Unfortunately, even the gap filling feature of StarStax wasn't able to completely fill them in.
The apartments in the stacked photo turned out a bit too bright, so I opted to blend it with the apartments from the original shot. Final adjustments were done in Lightroom to improve the contrast and reduce some more of the light pollution. The final image is the opening shot. Other than stars, aircraft trails were also captured!