It was at the end of our walk at Bukit Brown Cemetery and we were talking to Tien under the Ole Rain Tree when Gilbert asked if he knew about an abandoned temple in the area. He did not, but he referred us to Raymond Goh, one of the co-founders of the Asia Paranormal Investigators (API), who was chatting with a group of friends. He not only knew about it, but he immediately got all excited up, stopped whatever he was doing and quick as lightning, we now have an impromptu tour to explore and find the temple.
We were actually tired and hungry but the thought of looking for an abandoned temple like Indiana Jones gave us the energy to continue. Besides, we asked and we can't possibly back out now.
Raymond and gang managed to mobilise a few cars (the speed at which this happens is simply amazing) and we drove a short distance along Kheam Hock Road to an area under the Pan Island Expressway (PIE), climbed up a slope and walked alongside the PIE on a grass patch before continuing our trek inside the woods. The drivers along the PIE must be wondering what the hell is this group of crazy people doing there.
The temple was actually located in another section of Bukit Brown known as the Lao Sua (Hokkien for "Old Hill") and after a short trek, we are there.
The temple looks like it's been abandoned for a long time. The roof had collapsed and nature has already begun to reclaim it.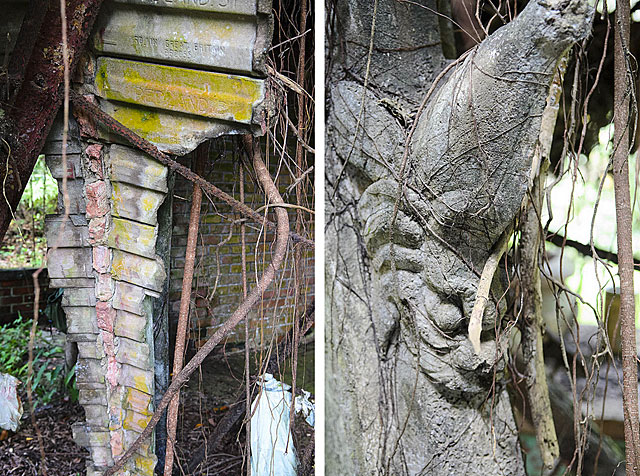 On the way down, we took a different path and almost got lost, but we managed to find our way via the barking of some dogs and also Raymond's memory of the place. We also found time to take a group shot.
Near the end of the road is a "tomb house" where the tomb keeper apparently stays in. It's a shed built on top of an existing tombstone and looks quite well equipped.
A short walk later, we arrive at the junction of Jalan Halwa and Kheam Hock Road, near where we started. We parted ways there and headed for the much needed lunch and a nice cold drink. It has been a rather exciting and fruitful day.