UPDATE (14 Jan 2016): You can now get to King Albert Park via the newly opened Downtown Line 2 (DTL2). Alight at King Albert Park Station and follow the guide below. 
Looking at my web stats, I realise there are quite a number of people coming in via a Google query like "How do I get to Bukit Timah Railway Station", "How to go to Bukit Timah Railway Station" and variations of them, so I thought I'd put up some directions so that those who wanted to get there can still do so. According to URA's website, the entire line of the railway will be accessible to the public until 17 July, save for a few localised areas. From 17-31 July, a 3km stretch of the railway from Rifle Range Road to Rail Mall will be accessible to the public. From what I read from postings in Facebook, the Bukit Timah Railway Station is still not fenced up yet, so now's the best time to visit before the authorities fence it up and limit access.
It's quite easy to get to the station from the King Albert Park McDonald's/Cold Storage, an easily recognisable landmark along Bukit Timah Road. Starting from there, make your way towards Bukit Timah Road and walk towards the black truss bridge, another distinct landmark of Bukit Timah Road/Dunearn Road.
Below the truss bridge, you'll see a little path which will lead you to the station. A signboard announces the presence of the station. Not too sure if this signboard is still there (it might have been dismanted after 1 Jul 2011) but the path is still rather unmistakable.
Continuing further, you'll see the quaint little station.
Here's a map of the directions. Pardon the poor drawing – I am a photographer, not an artist.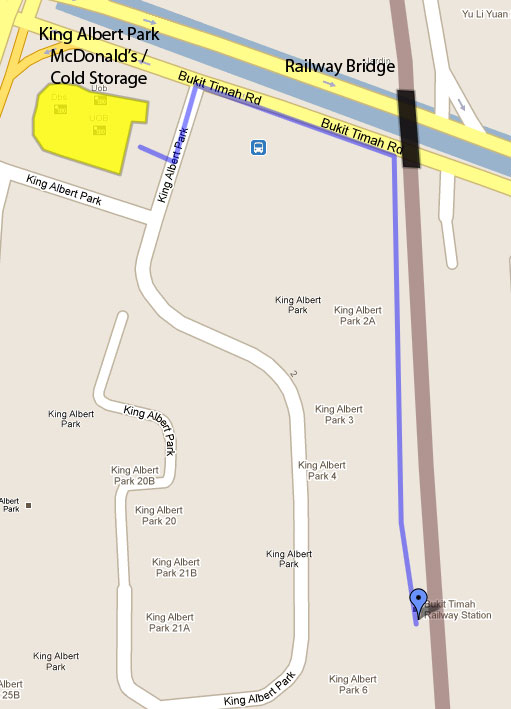 So there you go. Enjoy it while it lasts.
Also check out my other blog posts about the station: